Solid Nail Gel
Are you looking for a new nail polish set? Let's try our Solid nail gel, it will make you surprise! With 48 colors, no more struggle to decide which color to select, just be a fashion vanguard and enjoy the fun of professional gel nail design. The Solid canned gel is solid as the cream and can not flow anywhere when you use it. You can make a beautiful nail art design on your fingernails even toenails. The product is made of environment-friendly products with healthy ingredients, low smell, non-toxic. This nail gel is suitable for UV gel nails, acrylic nails, natural nails, etc, allows you to get a long-lasting and super shiny effect. A wonderful gift for yourself or your female friend, perfect for weddings, dances, dating, they are also suitable for Halloween, Valentine's Day, and other festivals. Get it now!
Simple nail polish can easily fall off to pieces , but UV nail glue can maintain beauty.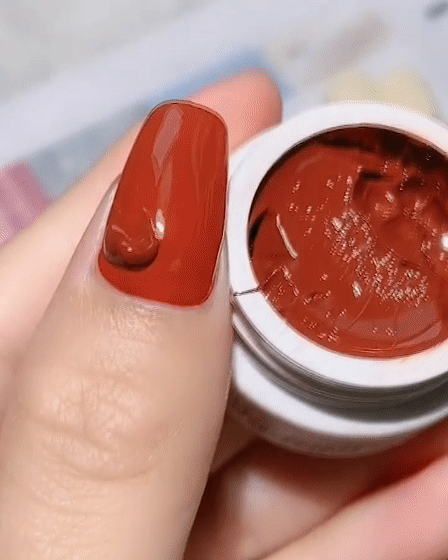 Why choose this Solid Nail Gel?
Our Solid Nail Gel are made from high quality natural resins and pigments with a clear color and a thick gel.
When thinly coated , the nails are light and clear, the color is clear , and it is not as easy to break and fall off as ordinary nail polish ; when thickly coated , the color is full , revealing a trace of noble and elegant brilliance.
Only with this Solid Nail Gel , you can DIY beautiful nails at home !
【 Not Damage Your Nails 】
Traditional acrylic enamels have an unpleasant odor, but the UV gel nail polish is safe and low odor. You can do your nail DIY at your will without any harm to your nails. It is also convenient to DIY nail art at home. This set is easy to operate, suitable for beginners and professionals.
??【Tiny Size】
8ml , portable and lightweight. Suitable for nail art paintings to create your own nail design, Easy application to extend your nails, make your hands more attractive.
??【Long Lasting & Durable】
Brilliant and high quality nail art paints, long lasting. Suitable for UV gel nails / acrylic nails / natural nails etc, allows you to get the long lasting and super shinny effect.
【✿ Suitable crowds】
All the people who love beauty and nail art, especially suitable for beginners and elegant women, whatever home use or professional nail salon, making your nails more beautiful and charming.
Professional Usage
Step1: Trim nail surface, prep and push back cuticles, clean and dry your nails.
Step2: Apply a thin layer first and cure under an LED or UV nail dryer lamp. Apply the second layer color gel, also thin. Cure under UV lamp/LED light.
Shiny finish, enjoy your 7-14-day manicure! Or longer depending on what you do as far as work/chores go.
How to remove it ?
Step 1. Remove the residue with buffer sanding file.
Step 2. Soak off the nails into acrylic remover for 5-10 minutes.
Step 3. Rip down the whole piece of nail enamel gently on each nail.

Beautiful shades of popular and trendy colors suitable for spring and summer seasons and daily routine life!