Wireless Neck Massager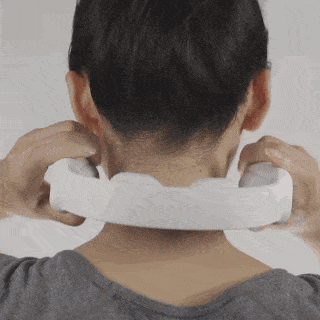 EASILY RELIEVE NECK PAIN AND STIFFNESS
Get a deep tissue pulse-like massage that relieves neck tension, stiffness and pain. Wireless Neck Massager 4 point panel design feels incredible on your neck without any irritation – Better than a real human massage!

YOUR OWN MASSAGE THERAPIST
Use Wireless Neck Massager at work, at home, at a park to get that relaxing therapy and remove any soreness and stress in just 10 minutes.
It's like having your personal massager on your hand anywhere, anytime – 24/7.
Lightweight to carry around and the flexible design is a perfect fit for any size neck.


IMPROVE BLOOD CIRCULATION
Working long shifts, sitting at a desk or frequently using a smartphone causes neck pain, stiffness, headaches. Prolonged stiffness can cause muscle spasm, shortness of breath, migraines and long term health issues.
Use Wireless Neck Massager for just 10 minutes and get the incredible feeling of relief. It will completely remove pain and stiffness and increase blood circulation.
Relieve Pain, Stiffness and Stress
Improve Blood Circulation
Like Your Own Massage Therapist
Portable – Use Anytime, Anywhere
Relieve soreness easily in 10 mins
Universal Fit
30 Day Use in 1 Charge
Incredible feeling of relief without any irritation
ERGONOMIC 360° DESIGN
With our advanced design, the stainless steel panels fit perfectly any neck and size. No extra pressure on your neck
PORTABLE AND LIGHTWEIGHT
Weighing at only 160g, Wireless Neck Massager is the ultimate massager to carry and experience the amazing relief – anytime, anywhere.

EASY TO USE
Easily controlled with a remote to select any of the 3 massage and 15 intensity modes to your liking.

UNIVERSAL FIT & EASY TO USE
Depending on the massage mode selected, Wireless Neck Massager will move, pulse, vibrate, and rotate in all directions.
Truly an unbelievable feeling, honestly.

1 CHARGE = 30 DAY USE
A single full charge of Wireless Neck Massager can give you 15 relaxing minutes of daily use over 30 days!
Wireless Neck Massager has a built in rechargeable lithium battery and comes with a standard Micro USB connector.
HERE'S HOW IT WORKS:
– The Wireless Neck Massager uses low-frequency electrical pulses also known as TENS (Transcutaneous Electrical Nerve Stimulation) technology to restore your tired and sore back.
– Feels Like receiving a massage from two human hands.
– Heating Function used to increase blood flow and loosen the tight muscles in your neck and shoulders.
– The Wireless Neck Massager reaches 3-5 cm below the skin to stimulate pain points and lighten discomfort.
– Built To Last. Made from durable 304 stainless steel, the neck and shoulder massager is sure to last. With its tough elastic arm and soft pressure band, it's suitable for all neck sizes, providing a firm comfortable fit.
Quick & Efficient Relief For Neck Pain Caused By:
– Poor Sleeping Posture
– Long Hours At A Desk
– Extensive Labor
– Traveling
– Stress/Tension
The Perfect Tool To Ease Your Neck Pain!
Features:
1. Through low-cycle pulse technology, penetrate 3-5 centimeters below the skin to open the pain points and meridians, and lighten the pain of cervical spine.
2. Constant temperature massage. Hot compress at 42℃ can relax blood vessels, relax muscles and bones, accelerate blood circulation and relieve cervical pain.
3. 3 massage modes and 15-step force adjustment. Acupuncture and moxibustion mode, massage mode and knocking mode.
4. Shut down at regular intervals. The default 15 minutes after automatic power failure, safer, more assured.
5. USB charging. 1600mAh battery, charged for 2 hours, massaged for 15 minutes every day, lasted for about 1 month.
Specifications:
Size: 142*138*60mm/5.59*5.43*2.36″
Material: ABS + 304 stainless steel
Weight: 160g
Charging mode: USB
Voltage parameters: DC5V; 1A; 5W
Built-in lithium battery capacity: 1600mAh
Duration: Massage 15 minutes a day for about 1 month.
Mode: Acupuncture and moxibustion mode, massage mode and knocking mode.